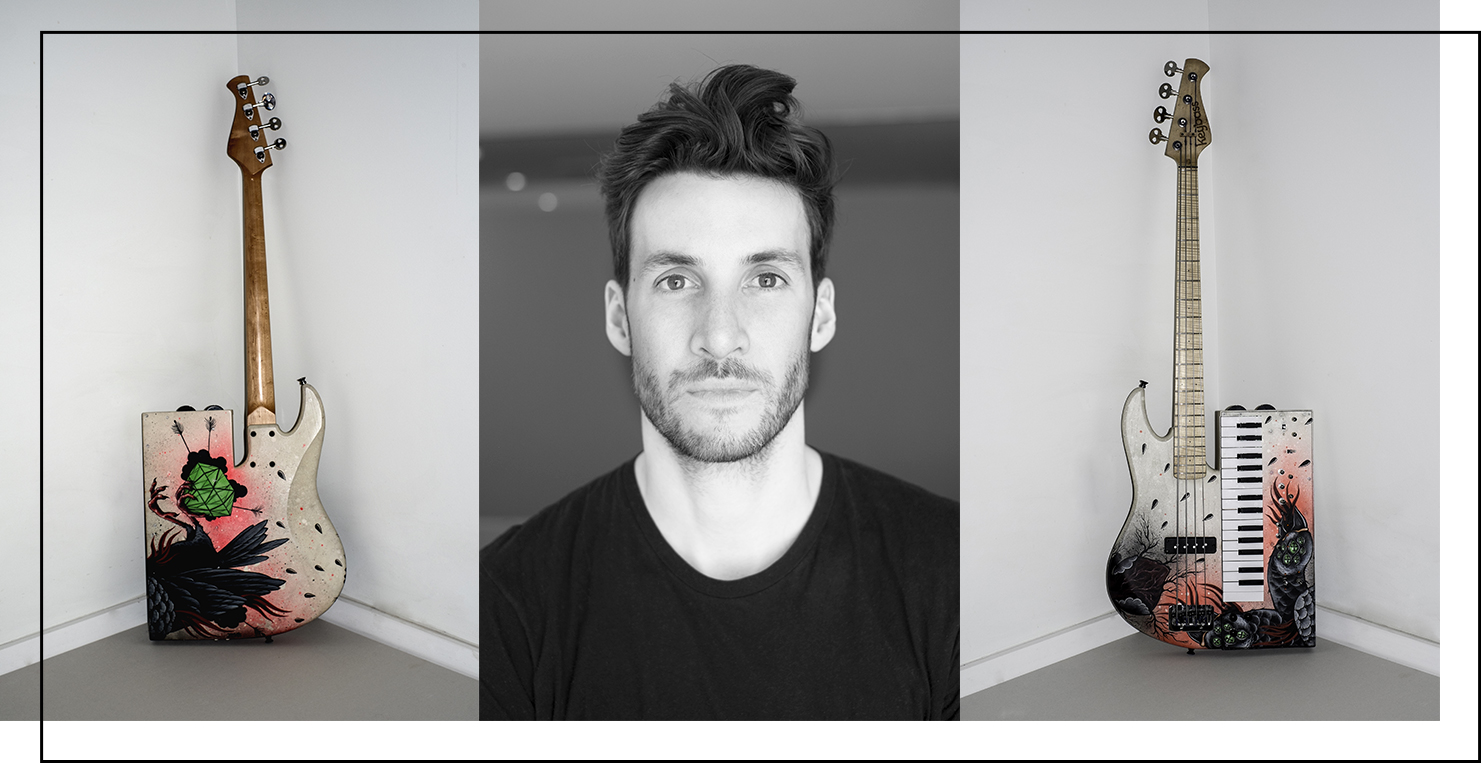 La Keybass
La keybass est un instrument hybride alliant la basse électrique et le synthétiseur, que j'ai inventé en 2007. À ce moment, c'était principalement pour me faciliter la vie sur scène. Par exemple, je jouais simplement des couplets avec une ligne de basse électro au clavier pour ensuite passer à la basse électrique au refrain. Je trouvais cela pratique et ça intriguait les gens.
Je me suis vite rendu compte que j'avais déjà fait le tour de l'instrument et qu'il n'avait aucun avenir valable sous cette forme. Il me fallait chercher plus loin pour concevoir une Keybass qui me permettrait de créer, reproduire et jouer tous les sons de basse que j'entendais dans ma tête.
Nouveau concept
Un des premiers moments marquants est lorsque je me suis joint au groupe Beast. La pièce City m'a inspiré à mélanger les textures organiques et électroniques en une même ligne de basse.
Par la suite, j'aspirais à pouvoir jouer les cordes de basse électrique avec mon pouce et utiliser mes quatres doigts pour jouer le clavier. Les premiers essais ont été pénibles. J'ai réalisé que la sonorité de la basse ne pouvait pas être négligée et que je me devais d'être extrêmement précis dans mon jeu pour garder le son de la basse électrique rond et solide.
Plusieurs mois et plusieurs essais plus tard, je tenais enfin dans mes mains ce dont je rêvais depuis longtemps. Avec une multitude d'innovations électroniques et ergonomiques, j'arrive maintenant à contrôler la basse à partir du clavier et vise-versa. Je suis constamment à la recherche de nouveaux concepts pour améliorer ma Keybass.
La musique change et évolue, les instruments aussi.
Il faut continuer d'être inventif et créatif, c'est ce qui fera avancer la musique.
Le meilleur reste à venir!
Merci de me suivre dans mes expérimentations.
The Keybass
The keybass is a hybrid instrument combining an electric bass with a synthesizer, which I invented in 2007. At that point, it was primarily a question of making my life easier on stage. For example, I would play the verses using an electronic bass line on the keyboard and then move over to the electric bass for the chorus. I found this pratical and people seemed intrigued by it.
I quickly came to the realization that there was no valuable futur with it as it was. I needed to search further to be able to conceive a keybass which would allow me to create, recreate and play all the bass lines I was hearing in my head.
New Concept
One of the very first defining moments is when I joined the band Beast. The song "City" inspired me to combined electric and organic textures into one bass line.
Next, I aspired to be able to play the electric bass chords with my thumb and use my four other fingers to play the keyboard. The first attempts were terible. I realized that the sound of the bass could not be neglected and that I would have to be extremely precise in order to be able to keep the sound of the electric bass round and solid.
Many months, many modifications and many attempts later, I finally held in my hands what I had dreamed about for so long. With a multitude of electronic and ergonomic innovations, I am now able to control the bass from the keyboard and vice-versa. I am constantly looking for new concepts and ways to improve the keybass.
Music changes and evolves, as do instruments.
We must continue to be creative and innovative, that is what will allow music to progress.
The best is yet to come!
Thank you for following me in my experimentations.
Jonathan Dauphinais